The Legend of Filthy Wilma . . .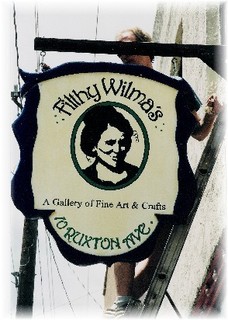 Bill Markham hanging Filthy Wilma's sign
Back in the late-1800's, Wilma Flanagan made her way by train and stagecoach from Boston to the place in Colorado that would become known as Manitou Springs. She left behind her a mysterious scandal--she never spoke of it once she reached Colorado. She had with her a trunk of clothes, a lucky horseshoe, and her wit, intelligence, and determination. Wilma may have been alone, friendless, and a stranger in a strange land, but that was not going to stop her!
Being a single woman with an uncertain past did not endear her to the upper crust of Manitou society, but her innate nobility and graciousness did not exactly
allow her to blend in with the rest of the town, either. Still, Wilma persevered. She learned how to throw pots and soon had a clientele that included patrons from Denver and Colorado Springs. (In fact, her pottery is the source of her sobriquet--she was "Filthy Wilma" because she always had clay under her nails when she was working at her potter's wheel, and the society belles would sniff and say, "There goes that filthy Wilma again! Can't she learn to wash her hands?!")
Wilma discovered she had a knack for poker and, perhaps because of her modest, unassuming appearance, soon became as successful as any card shark. She was so successful that, in one marathon poker session, she won a livery stable, complete with horses, tack, and wagons. Thus began her second career as a driver for visitors to Manitou Springs. She was a skilled horsewoman and driver, and the local hotels soon learned she was their best bet for satisfied customers. If Wilma was driving their guests around, the hotels knew the visitors would be returned safe and sound and flushed with excitement about all the wonderful sights they'd seen in the Garden of the Gods and elsewhere.
One day in 1893, a visitor arrived in Manitou. Fresh off the train, Katherine Lee Bates was a little disoriented and scared. She had taken the train to Manitou on a whim and didn't know a soul, let alone where to stay or find a good meal.
Enter Wilma! She saw Katherine standing alone on the platform and offered to put her up for the night and feed her dinner, until Katherine could get a room in a hotel. Katherine was delighted to hear a Bostonian accent again. Before long, she and Wilma were discussing old friends and familiar haunts back East as though they were long-lost cousins. The next day, Wilma offered to drive Katherine to the top of Pikes Peak, so that Katherine could really see how lovely the West was. Katherine agreed and the two set off at dawn in one of Wilma's gaily painted buckboards. As they gained altitude, it got a great deal colder. By the time they reached the summit, Katherine wasn't sure this had been the best idea in the world, but the view more than compensated her for her cold nose and toes. The day was clear and the view was spectacular! Katherine was so enchanted by the majesty of the land around her that it was well past noon before Wilma could tear her away so they could start back down to Manitou Springs. As day faded into evening, the temperature dropped even further. Katherine gratefully took advantage of the buffalo robe Wilma had had the foresight to bring along. That warmth, coupled with the whiskey Wilma also toted, made Katherine's day complete. She couldn't stop talking about how beautiful the scenery had been, especially as the brilliant sunshine atop the Peak had deepened to purple dusk during the descent.
Deciding it was too late to cook dinner, but both feeling rather empty, t
hey stopped at the saloon attached to the train station to celebrate their trip. The bartender, Amber, was a good friend of Wilma's and the best cook in the territory. She soon had steaming bowls of soup and fresh bread set before the two travelers, who tucked in with a will. As the night mail train pulled out of the station, the conductor pulled on the whistle cord, giving Amber, his sweetheart, two blasts of the train whistle. Amber rushed to the window of the saloon to energetically wave goodbye to him. Katherine, who was definitely feeling the effects of the alcohol and altitude by now, asked Wilma what Amber was doing. "Oh, Amber always waves at trains," Wilma replied. But a fuzzy-headed Katherine heard "Amber waves of grain," instead . . . and an American classic was born!
---
---
Filthy Wilma's in Manitou Springs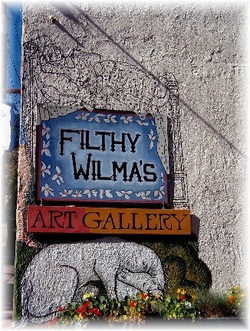 Tina Riesterer's wrap-around mural at 10 Ruxton
Many of you know Filthy Wilma's--until April 15, 2007, we were a small art gallery at 10 Ruxton Avenue in Manitou Springs, Colorado--but for those of you who don't . . . .
Lynn Loftus, now of Marathon Key, Florida, originally rented 10 Ruxton in October 1993 as a studio, but with all the extra room in the space, she decided to display for sale the work of her many artist friends, to help make ends meet. Given the location on Ruxton Avenue, on the road to the Pikes Peak Cog Railway, Lynn wanted a catchy name to draw people up from Manitou Avenue. Just an average name with "gallery" or "pottery" in it was not going to be sufficient! She remembered a story that her parents had told her about a bed-and-breakfast they had visited in Alaska called "Evil Alice's," where they were served tea three times a day on fine china and lace tablecloths. The name was one she had remembered all her life, and it was the kind of name she wanted for her shop. She told the story to Sharon Cupit, who then said she always thought that it would be fun to open an establishment called "Filthy Wilma's." All the artists loved the name and thought it was really funny, so it stuck!
At Wilma's, we were always recounting the Legend of Wilma (see above). While the gallery did well, we were getting short on space, as more and more artists asked if they could join our group. So, in 2007 when the space at the old Meadowfound building became available, all of the artist-owners at Wilma's jumped at the opportunity to move into a new location with more room, larger display windows, and a better traffic flow.
We ran into a huge problem, though: Our new landlady hated (actually, that's not quite strong enough--she LOATHED) the name of our gallery. Try as we might, we were unable to convince her that our customers loved the name "Filthy Wilma's." We had to make a hard choice: Keep our name and lose the space or lose our name and take the larger gallery space.
Thus the era of "Filthy Wilma" came to an end. We became Green Horse Gallery. Our main gallery space is larger than our old one and has room for monthly showings where we can concentrate on an individual artist's work. We have double the working studio space in back, where two of our artists currently have their clay studio.
We may have a new name, but we still carry a lot of the same wonderful art work that we had at Wilma's
, as well as new and exciting pieces from artists we think you will love, too!
Please check our artist pages for photographs of the work we carry and the names of our artists.
---