GREEN HORSE GALLERY AND MANITOU SPRINGS--OPEN FOR BUSINESS!!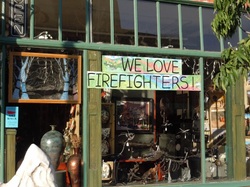 The Waldo Canyon fire has been devastating for the City of Colorado Springs and surrounding areas. So many people have been affected by this disaster--so many people lost their homes, so many businesses were forced to close down. There are no words wonderful enough to praise the brave men and women who have responded to fight the fire and help those in need.
OUR SIGN SAYS IT ALL: WE LOVE FIRE FIGHTERS!!
Many of the artists in Green Horse Gallery were directly affected by the fire--they were in the forced evacuation zones and were unable to work from their studios.
PLEASE KNOW THAT MANITOU SPRINGS IS OPEN FOR BUSINESS! The fire did not burn through town. Our stores and galleries and restaurants and mineral springs are all still here and need your support.
GREEN HORSE GALLERY IS OPEN EVERY DAY IN JULY, AUGUST, AND SEPTEMBER!
PLEASE COME BY AND BUY!
Support your local Colorado artists by purchasing their wonderful artwork!
---